When your travel plans are flexible you can end up anywhere. I received word that my dad would be in Sri Lanka and would like to meet up with me for the final days of his vacation. It had been over three months since I last saw him and not knowing when he would see me again sparked his generous offer of a ticket from India to Sri Lanka. After only 17 days in India I was off to Sri Lanka.
Fishing Village of Negombo
Stepping out of the Bandaranaike International Airport and hopping into a tuk-tuk to my dad's hotel, I immediately noticed the relative calm of the streets and people compared to the bustling metropolises of southern India. Meeting up with my dad for his final day, we explored the fishing village of Negombo and a few of the nearby lagoons.
It was wonderful spending time with my dad and getting a taste of luxury travel, but after two great nights and one day I bid my dad a safe journey home and headed south to the beach.
Meeting at the Beach
My first stop was the southwestern beach town of Hikkaduwa, where I was greeted with soft sands, clear skies, and the sparkling ocean. I was happy to read in the sunshine, walk the beach, chase fish in the shallow water, and hang out with green sea turtles.
As I have never been to Sri Lanka before 2004 it was hard to see the damage from the tsunami that devastated the southern and eastern shores of the country. From my observations it seemed that the only hint of the damage was the narrow width of the shores and how the high tide brought water up the walls of some of the buildings. Nonetheless, it was a pristine beach with a laid back attitude. Bob Marley is very popular in Sri Lanka and it was nice to sit back with a Lion Lager and enjoy some reggae.
Two days later I headed further south to Mirissa Beach, the primary point for whale watching tours in Sri Lanka. I was less interested in the whales and more excited about meeting up with my good college friend, Sam Kustel. After a happy and joyous reunion along the main street we explored the town for a place to stay, dropped our bags, and hit the beach for two days.
Entering the Hills

Without a doubt, the hill country of Sri Lanka is my favorite region. Beaches are wonderful, but deep down I am a mountain and hills, rivers and waterfalls kind of guy.
Leaving the south, Sam and I traveled to Ella, Horton's Plains, and Delhousie (the village close to Adam's Peak). Around every curve of the train tracks, the vista would open into a beautiful view. The rolling hills were covered with tea plants and down in the valleys were small farms of the villagers. Sitting with either my head out the window or in the doorway of the train, I attempted to soak in as much of the pure green landscape as I could.
In Ella, we hiked to a beautiful lookout atop of Little Adam's Peak, rested our backs beneath the 80 foot high Rawana Ella Falls, and scrambled through the country side towards an unknown waterfall we could see in the distance. Halfway there, a father and son joined our walk and guided us through a series of twists and turns we would never have managed on our own to the waterfall. At night we rested in a room connected to a local families house and our neighbor ended up being a tour guide spending the night at a cheaper accommodations than his clients. It was a nice feeling to stay where the local guides would when in town.
After a few days we moved west through the hills by train to the 100-person town of Ohiya, which sits at the base of Horton's Plains National Park. Horton's Plains provided an enjoyable 2-hour stroll with the often written about World's End view, but my favorite part of our time was learning Omi (a Sri Lankan card game similar to Euchre) from the child of our host, Sean, and his friend Dar.
Next we headed to Delhousie, which sits at the base of Adam's Peak. Adam's Peak is an important pilgrimage site for many faiths. The holy site is home to the 'sacred footprint.' Depending on whether you are Buddhist, Hindu, Christian, or Muslim the footprint can belong to the Buddha, Shiva, Adam (as in Adam and Eve), or St. Thomas.
The approximately 5200 steps to the top take about two hours to climb without any rest stops. During the popular months of the pilgrimage, December to May, the path is lit up all the way to the top. We began the ascent at about 2:30 in the morning and made it to the top with plenty of time to kill before sunrise. It was a great workout that left our calves sore for days, but more importantly, imprinted a spectacular view of the countryside. Adam's Peak was my favorite place in Sri Lanka.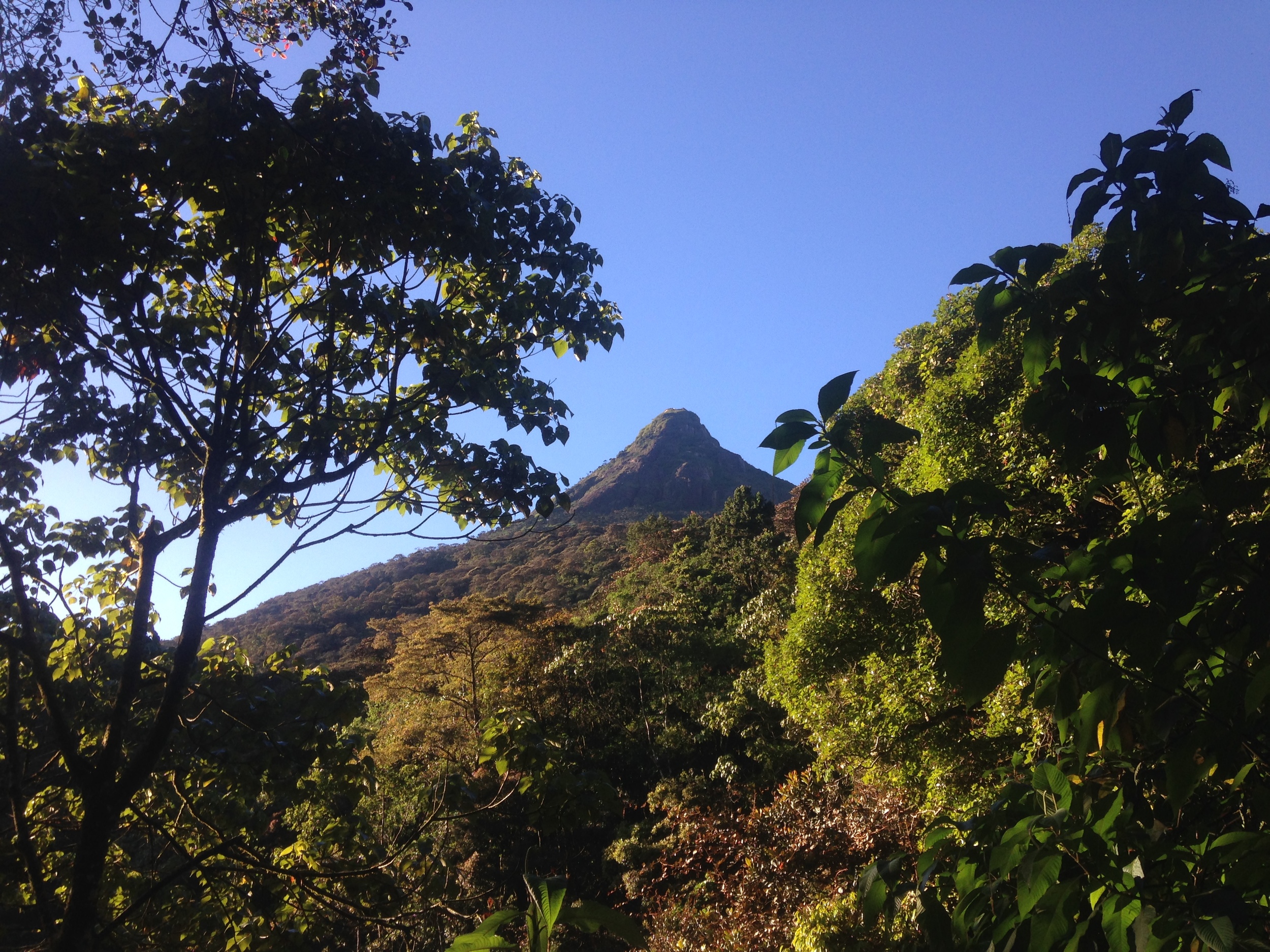 The Smiling Faces of Sri Lanka
The people of Sri Lanka are an absolute joy to be around. They almost always return a smile with a bigger brighter one of their own. The smiles can be behind a mouth full of sparkling white teeth, red teeth, one tooth, or no teeth, but the happiness behind each smile is all the same. I sometimes felt like I was walking around a Coca-Cola commercial because of how much smiling was going on.
It was a great two weeks in Sri Lanka. I wish I had a lot more time to leisurely enjoy the country, drink more Lion Lager, and rock out to more non-stop Sinhalese pop music that is often blasted for hours at a time on the bus. I highly recommend anyone remotely interested in Sri Lanka to go visit. While there is still much more to do, see, and enjoy in Sri Lanka, it is time for round 2 in India.